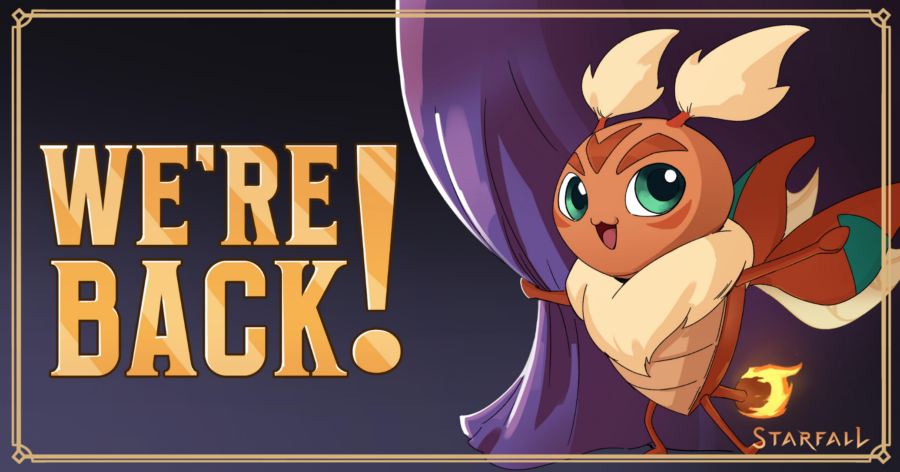 Community Update 5
✨ Greetings, Skyward Adventurers!
As the holiday season of gratitude approaches, we wanted to extend a message of heartfelt appreciation for your patience during our recent period of silence, and let you know that…
WE'RE BACK!
That's right, we're returning to regular posting and updates!
We couldn't be more excited to share all we've been up to. After all, though we've been quiet, we haven't been idle. Our team has been hard at work, moving Starfall forward, faster than ever, creating original experiences specifically for you, our community.
We have a lot to tell you. And show you. So, without further ado, let's get into it.

💫 DnD 5e Setting Update
Since the last update, the 5e Starfall setting has been flying with the speed of a Norvund Marauder about to attack! In the last few months we've successfully created and polished:
Over eight unique Starfall species
A playable version of Color Magic
PVP and Team Sprite Fighting
In Game Airship Combat
Original Spells, Items, and so much more!
These custom creations will soon allow you and your friends to journey into the world of Starfall and experience everything the Skylands have to offer. From being a Blood Elf Akari Student, to a Tompoko Sprite Keeper, to a pirate-fighting Ork Gunslinger exploring the High Skies, the Starfall 5e Setting is gonna have it all!

📖 TTRPG Playtests
Creating a 5E setting is a multifaceted endeavor. It doesn't just require a team of game designers, writers, and artists bringing new ideas to life on the page, it requires IRL testing and refinement to make sure that it comes to life on the Table Top just as well! Rest assured, we've left no gear, spell, or piece of Lumite unturned in our pursuit of this goal, including conducting internal playtests… and EXTERNAL playtests! Yes, you heard correctly. Our in-house Game Designer and seasoned Dungeon Master, Clayton, has been leading playtests with individuals from within our team and beyond our organization, making sure that each cannonball flies right and that every Sprite Battle is competitive.
We're pleased to say that these playtests have been resounding successes. However, there's still more to be tested. Lot's more. And in order to get it all perfect, we're gonna need your help.

📄 DnD Demo
Because there never would have been a Starfall TTRPG without our community, we've always planned on relying on our amazing community to help us make this 5e setting the best it could be. With this goal in mind, we're delighted to tell you about an upcoming opportunity to immerse yourself in a sample of the Starfall setting, and share your feedback with us!
This Winter we'll be releasing The Starfall Demo, a sample of the 5e setting that will allow you and your friends to create characters from some of Starfall's unique Species, experiment with original items and spells, explore the Skylands as a Starfall specific subclass, and experience the thrill of airship combat over the Skylands!
We'll be sharing more about the Demo in the weeks to come, so make sure you keep an eye on our socials.

🎮 Minecraft
Of course, while here at Starfall we are one family, we're also multiple teams. And while the TTRPG Team has been working on the 5e Setting and its Demo, our Game Team has been hard at work creating a custom server that promises to redefine the way you engage with the world of Minecraft….
We know you're dying for a glimpse at what we've been building… but for that you're gonna have to be patient for a little longer. But rest assured, early 2024 will include a sample of in-game footage that will be MORE than worth the wait!

💻 Website
Last, but by no means least, we are thrilled to have you visit our brand new, updated website. This "Digital Skyland" will join our discord server and socials as another gateway to all things Starfall moving forward, allowing you to stay updated on our latest endeavors, and in-communication with the team!
So what are you waiting for? Go check it out! You've been patient, it's time to dive back into the world of Starfall.
We've missed ya,
Lumi