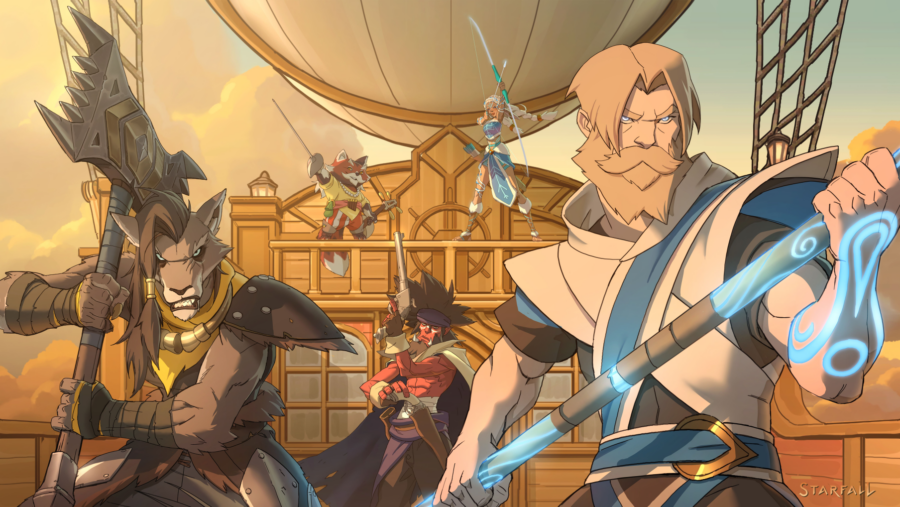 Community Update 4
Greetings, Skyward Adventurer!
We hope you're having a great summer, we know we are! Here at Starfall we've been hard at work at building Skylands, designing airships, and creating weapon attacks for the MMO… but while we can't wait to share all of that with you, in this month's update we to talk about a totally new part of the Starfall World – the Starfall 5E Campaign Setting!
Why the Tabletop?
The idea was never for Starfall to be a single story told in a single way. The idea was to create a world that allowed for endless stories to be told in countless styles and a variety of formats. So when a member of our community reached out wanting to bring the world of Starfall onto the tabletop, we didn't just say "okay," we sat down at the table and said count us in. Over time, that short one-off campaign grew from a single person's idea to a full team of artists, writers, and game designers bringing Starfall into the world of Dungeons and Dragons 5th Edition.
To 5e or Not to 5e
On the path from campaign to game we've found ourselves faced with many questions, one of the first being: what would create the best experience for the players? In the end we decided the answer was to build Starfall as a full setting with adventures and loads of character creation options for 5E. There were multiple reasons why we made this decision, but first and foremost was that it lets us to bring people into the world of Starfall in a way where many are already comfortable, so that they can get into the world sooner and start having fun right away. And even for those who have never played D&D, working with the tried and true 5e system allows us to focus more on the details that make the Starfall World so special.
What Will Make the Starfall Tabletop Experience So Special?
Even though parts of the Starfall Campaign Setting will be familiar to 5e players, and while you will be able to bring a character from other campaigns into our world, the Starfall experience is going to be completely unique. Among the original features our team has been building for Starfall are:

Original Settings Set in the Skylands, high above Mainland, in Starfall you'll be able to explore the Skyland frontiers or enjoy the bustle of Kogi's Palace.

Airship Travel and Combat Our team has carefully crafted a system for Starfall that will let you and your party jump aboard an Airship and do battle with vicious pirates and go hunting for monsters of the high skies.

Original Species and Classes Along with our own unique take on classics such as Elves and Orcs, the Starfall 5e setting will give players the option to create characters that are original species, like Leoni and Norvund. And while you'll be able to play a Norvund Barbarian if that's your favorite style of 5e gameplay, you'll also be able to play a range of original classes and subclasses, from the Kaos wielding Akari to the bomb-throwing Tinker Rogue.

Sprites And it wouldn't be Starfall if you weren't able to participate in the most popular pastime on Lyra – Sprite Battling, so we've made sure that you'll be able to catch Sprites and battle them against your friends and foes alike.

Coming Up Next Now this is only a taste of what we have in the works for the Starfall Campaign Setting and there is plenty more exciting stuff to come! In the months to come we'll be updating you with our progress as we head towards the launch of our Kickstarter where you'll get the chance to be part of this new adventure. And all along the way, we'll be listening to your feedback, because without our community, we'd never have headed to the tabletop in the first place!
Minecraft
Now some of you may be wondering, how does this change the plan when it comes to MMO we've been working on… well don't worry, because the answer is – it doesn't! Here at Starfall, we have an MMO Team and a TTRPG Team. And while both teams are working from the same source material and concepts, creating versions of the same world, they both are dedicated exclusively to the creation of their unique gameplay experience. MMO and TTRPG – two different teams, but one Starfall Family.
So long, Skyward Adventurers!
The Kaliko Crew‎